Faculty of Engineering
Department of Transport Mechanical Engineering
Students in this course will learn practical skills concerning mobility development, manufacturing, and maintenance.
Theoretical and practical approaches are used to teach students about "transport machines" and the knowledge used to decide their shape. Students will learn the mechanics of a variety of engines such as those used in a Formula 1 race cars and airplanes, as well as what the controls inside these machines are composed of.
The curriculum covers a wide range of skills and studies necessary for "creating mobility" such as automobiles and airplanes from the basics to applied education.
Students will also learn about special courses such as automobile engineering, airplane structure, aero hydrodynamics, rocket engineering based on four fields of mechanics of "material mechanics", "hydrodynamics", "thermal mechanics" and "mechanical dynamics".
Finally, as graduation work which unifies what you learned, you will be expected to choose a theme related to automobiles and aviation which interests you such as research about automobile aerodynamic design, heat efficiency improvement of internal combustion, or object detection by using sensors.
The teaching faculty is a team of industry experts who were formerly engaged in mobility development in some of the world's foremost automotive and airplane manufacturing companies.
Students will also have the opportunity to visit automobile and aircraft development facilities where they will be able to hear from current professionals in their field. This experience will not only compliment student's practical learning, but also be advantageous to students pursuing a career in the automotive/aviation industry.
Course Introduction
Pursue advanced high-end information technologies and aerospace engineering
Advanced Traffic/Aerospace Course
Aerospace Course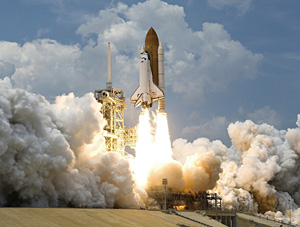 Students in the Advanced Transportation and Aerospace will learn about advanced information technologies such as automated driving. We provide courses for airplane development/manufacturing technologies such as aerospace engineering and aerospace flow dynamics as well as courses for spacecraft development and manufacturing such as rocket engineering.
Additional courses are available in the aerospace maintenance area for those interested in a career at a major airline. * Our highly capable, experienced staff will support you and help to realize your dreams for a career in a variety of fields from aerospace development to manufacturing and maintenance,
* This is not a qualification course.
Pursue learning about automotive
Automotive Course
Learn development and maintenance skills for automotive.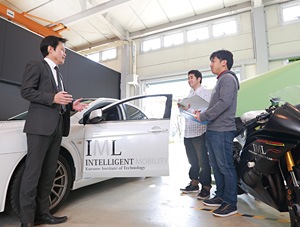 Students in this Automotive Course will gain a comprehensive understanding of automotive development, engineering, manufacturing, maintenance and management through the study of automotive performance and structure.
Knowledge in these areas is learned more practically through experiments, practical training, and voluntary activities.
As a main feature, this course is comprised of lectures which are typical in 4-year colleges such as development technologies and engineering principles and practical maintenance training.
Students who complete this course will be exempted from taking the Practical Examination for the Level 2 Automotive Maintenance Engineer Examination.
Research Pick Up
Research on emission heat lowering drive of high-supercharger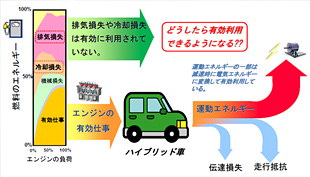 Takuya Yamaguchi, Associate Professor
The diesel engine is an internal-combustion system which consumes less fuel and has high heat efficiency, whereas it is not used as efficient work as most of fuel energy is changed to emission loss and cooling loss as shown in the figure. Hybrid vehicles are being used widely to compensate the shortcomings, but current hybrid vehicles make it possible to improve fuel efficiency by applying lowering drive to movement energy at time of lowering speed to change it into electric energy .
The rise of hybrid vehicles significantly improved automotive efficiency, but engine's emission/cooling loss remains less taken advantage of. Our research is seeking for possibilities of quantifying emission/cooling loss and utilizing it. We are engaged in creating ecology-efficient vehicles capable of using limited energies.