Faculty of Engineering
Department of Mechanical Systems Engineering
Machines create "things" which support our daily life and society. And machines also create other machines as well. Mechanical engineering is a study of engineering and creating "things" from ideas about "things" which are necessary for us.
Mechanical System Engineering is a course in which you can master the basics of mechanical engineering, design using IT technologies/environmental technologies, and gain knowledge and technical skills necessary for robotics and mechatronics. Through experiments and practical training with latest equipment and engineering/production by CAD/CAM, our excellent staff will foster mechanical engineers who can deal with IT society.
We are also providing official courses for Mechanical Design Engineering and CAD Operator qualifications. In the Robotics Course and Mechanical Design Course, we foster specialists by providing well-developed education tailored to each student's abilities.
Course Introduction
Learn a wide range of "mechanical engineering" through main course of "Manufacturing" and "Engineering"
Mechanical Design Course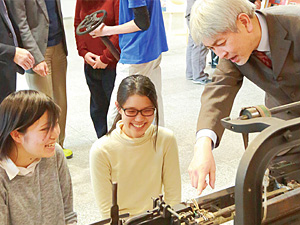 Almost all of creation such as production machines and communication devices are based on mechanical engineering. The Mechanical Design Course provides extensive knowledge about mechanical engineering. Even from their first year, students can use high-end devices like a 3D printer, create what you image, and explore practically. There are a variety of support programs for qualifications which will equip students to play active roles in various fields.
Learn high-end mechanical engineering through robotics courses
Robotics Course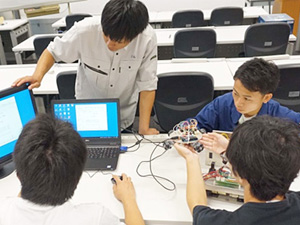 In Robotics Course, you will deeply learn mechanical engineering from a perspective of robot engineering and development with the latest communication technologies using smarts phone and micro computers. As you can expect to master special and practical fields, there are actual records of winning design competitions nationwide. It can be expected to get skills as robot engineers leading the future of Japan, and great appeals in career activities.
Research Pick Up
Develop UFB(Ultra Fine Bubble) creation technology

Atsuyoshi Takayama, Associate Professor
UFB water is function water mixed with microscopic bubbles of 1μm or less.
As a technology originated from Japan, UFB is created by ejector system, agitation system, and cavitation system. In this research, we are developing stable and reasonable UFB water creation by originally developing pressurized solution cavitation mixer.
As it is especially important to improve nano number density, we succeeded creating UFB water of more than one billion/ml out of one litter creation. We also launched developing large-scale creation device, and marked a record of about 1.5 billion/ml out of 500 litter creation.
These density measurements are conducted with "Nano Sight" from Malvern, and radical analysis of ESR( electron spin resonant ) is necessary in order to analyze the function of UFB water.
So, we are researching reduction of various environmental loads based on nano number density and radical strength.
Specifically, we are engaged in high-end research by using high-tech nano technologies ranging from farm and marine products(growth acceleration, freshness retention), to industrial use(machine cutting, drainage treatment), to sterilization and antimicrobial treatment), to establishment of new flammability method( using OH radical ).